This recipe is based on a classic Ukrainian food "golubtsy"or "goloobsti." Originally it's meant to be a stuffed cabbage but the lazy version of it. It's a pretty basic Ukrainian / Russian dish that my husband loves and requested for meal prep this week
Things you will need:
Ground beef (I used 2lbs from Costco *the organic one)
2 Small or 1 Large head of cabbage (since my hubby was helping it was cubed but you can also shred it into long strips)
1/3 cup rice ( preferably white)
1 medium onion
1 cup of water
1 tbsp vegetable oil
Salt and Pepper
In a large pot saute the ground beef and onion over medium heat in the oil. When the meat is about half way cooked add the dry rice, mix thoroughly and let it cook on medium with the lid on until beef is fully cooked.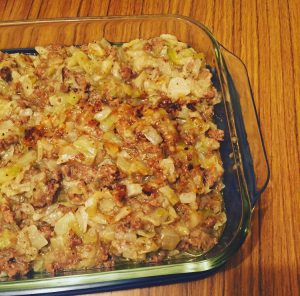 Start adding the cabbage to combine. It took me about 3 times to get all the cabbage incorporated since it wilts while cooking. I started adding a little bit of water as I added the cabbage as well so it creates steam and everything doesn't get stuck to the bottom.
Add in salt and pepper to taste and cook until most of the liquid evaporates and the rice (or the whisper of it that is there) is fully done.
It is best served with some sour cream but I chose to keep it light and omit it. Don't forget to enjoy with the rest of the family 🙂
This will make roughly 12-14 cups
Here are the nutrition facts per cup
178cal / 12g carbs / 8.3g fat / 15.8g protein