This Cauliflower Leek Soup started as a potato leek soup but I soon realized that I can't have that much potatoes all the time. I'm one of those who loves cauliflower also and this seemed like the perfect opportunity to switch over.
For this recipe you will need:
2 – 3 Leeks (preferably with green ends)
1 Medium Head of Cauliflower
3 Cups of Water
Salt, Black Pepper and Cayenne Pepper to taste
1 Tbsp Canola Oil
You will also need an immersion blender (you can use a standard one) & food processor (which is optional)
I would like to start off saying the above measurements of ingredients is a rough estimate for a medium pot of soup
Make sure to cut the leeks the long way first and wash them, they have a lot of dirt and you do not want to be eating sand with your soup. Then slice them up small. Next heat up the canola oil and saute the leeks for 3 – 5 minutes over medium heat. Lightly salt the Leeks.
Wash and trim the cauliflower, cut up into manageable chunks. Now you can toss the cauliflower into the soup this way but it will take longer to cook so I put them it into the food processor. I pulsed it for a little bit so it's the constancy of rice but if it's a little bit bigger it's ok also.
Saute the cauliflower with onions for about 5 – 6 minutes, add Salt, Black Pepper and Cayenne Pepper to taste. I would go light on this because later you can add more. Then add 3 cups of water and bring to a simmer. Let it simmer for 10 minutes with a lid over top, in the case you will be be using the food processor for the cauliflower you may need to cook it for a little bit longer, until fork tender.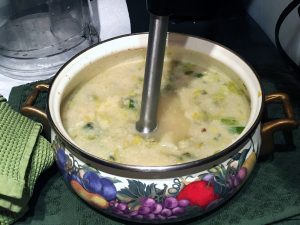 Once done use the immersion blender (or pour into a regular blender) until everything is smooth. Make sure to taste and adjust spices, the soup shouldn't be too watery, if it is you can cook it for a little longer on the stove top. Make sure you cover it because it will splash out. You can also make this as a side dish (but use half the water).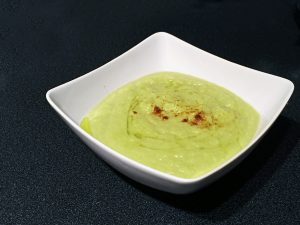 Serve and Enjoy
I added a little garlic olive oil & Cayenne Pepper since I like a bit of a kick.