Honestly I didn't do well with shrimp before surgery. It would always make me feel sick and I'm so happy I can enjoy it again
What you will need:
fresh shrimp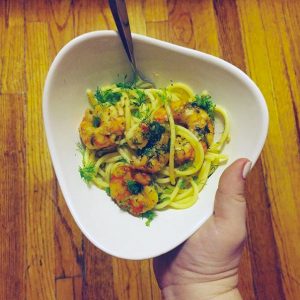 pasta
garlic
butter
oil
lemon juice
dill
salt & pepper
First I cooked the pasta, since my hubby likes the pasta really well cooked I added 5 extra minutes. I used gluten free pasta because we purchased it by mistake but it really holds up. I honestly didn't see the difference.
I peeled and devained the shrimp, washed it and pat it dry. I had 1lbs of shrimp – it came out to 22 pieces
I fried the shrimp lightly (1 to 2 minutes per side) and added salt and pepper.
Add in your minced garlic and cold butter to the pan along with a drizzle of lemon juice. Let it cook for a few minutes then add in the finely chopped dill.
Once the pasta was drained I added it to the pan and let it all cook together for a few minutes. I added a little more dill on top
Honestly it was awesome, maybe because I haven't had shrimp for at least half a decade but we both really enjoyed it.
Things I would do differently in the future:
I would probably use parsley instead of dill
Instead of black fresh cracked pepper I would use chilly flakes for a bit more heat
As a barbaric patient I would omit the pasta, after a few bites it was super heavy and I couldn't eat much of it.
Hope you all try it out and ENJOY