As a bariatric patient I have to be mindful how and what I'm eating. I'm by no means perfect but I try to make sure my meals are full of protein and proper nutrients.
What you will need to create this plate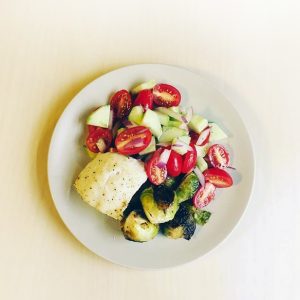 Fillet of Cod
Brussels Sprouts
Tomatoes
Cucumbers
Red Onion
Olive Oil
Salt and Pepper
Cut up Brussels Sprouts in half, tossed with some olive oil, salt and pepper and baked it in the oven at 425 for about 20-25 minutes. I keep an eye on them so they get really browned on the outside, just shy of burned lol
I simply put salt and pepper on my cod fillet and pan fried it lightly in a little bit of olive oil
As for the salad I used some cherry tomatoes (you can use any type) cut in half. Chop some cucumbers and a little bit of red onion. The salad dressing is super easy. Olive Oil, salt and pepper to your liking.
I find this to be super easy, one of my go to meals when I don't want to make a big fuss.
If you recreate this please feel free to share with me on social media by tagging me @jane_rny 🙂
Happy noms 😀